– By James Clancy
It's an indication of what an emotive night November 18th, 2009 was for (Irish) football that the tenth anniversary of that night has overshadowed somewhat the build-up to November 18th, 2019 and what is another huge night for Irish football.
The Republic of Ireland host Denmark this Monday, November 18th at Dublin's Aviva Stadium, knowing that a win will book a place at the 2020 European Championships (assuming Switzerland don't draw with Gibraltar) where Ireland will play two matches in Dublin. This would of course have major economic and other spin-off benefits for Ireland, as well as the optics of not wanting to host a party (a total of four European Championship matches in summer 2020) that you're not invited to!
November 18th, 2009 was of course however the night that Thierry Henry deliberately handled the ball (twice) to setup William Gallas who headed into an empty net to score for France and ultimately knock the Republic of Ireland out of qualification for the 2010 World Cup.
The rhetoric at the time (particularly from an Irish demographic that felt very sorry for itself) was that Henry was a horrible individual, a cheat and much stronger/more offensive terms used to chastise the then Barcelona star. Henry was further pilloried for years afterwards, even receiving death threats in the aftermath and is still reviled in some (mainly Irish) quarters.
Speaking immediately after the match, Henry said: "The ball bounced off my hand. I'm not the referee. He didn't blow his whistle, so I kept going."
For me, those words from Henry are difficult if not impossible to argue with. Virtually any professional footballer would have acted similarly to Henry in such circumstances. Included among them was Damien Duff, who immediately after that fateful match in Paris back in November 2009 said tearfully: "You'd have to chance it. You'd try your luck and see if you could get away with it."
In many ways, missing out on a World Cup in such circumstances, is the worst injustice in football. For me, the World Cup is football's greatest stage and to miss out on football's greatest stage by such a fine margin and in such unjust circumstances, is the ultimate footballing injustice. At least if you're a victim of an injustice while playing at the World Cup, you're still there, you're still at the greatest show.
When the millions of people watching that match on television could see Henry's (double) handball infringement on replays within seconds of the incident occurring, the argument became from many that there should be video replays/video technology in elite football so as to help the match officials to make decisions.
There are of course arguments for and against a Video Assistant Referee (VAR). FIFA argued at the time and for some years before and after that VAR would widen the gap between elite level football and grassroots football (which obviously will never have VAR).
VAR has however come in now into many major football leagues and was used at the 2018 FIFA World Cup, the 2019 Women's World Cup and other major tournaments. For some, this is great. They feel that elements of doubt will be removed from football and all major decisions will be decided accurately and fairly.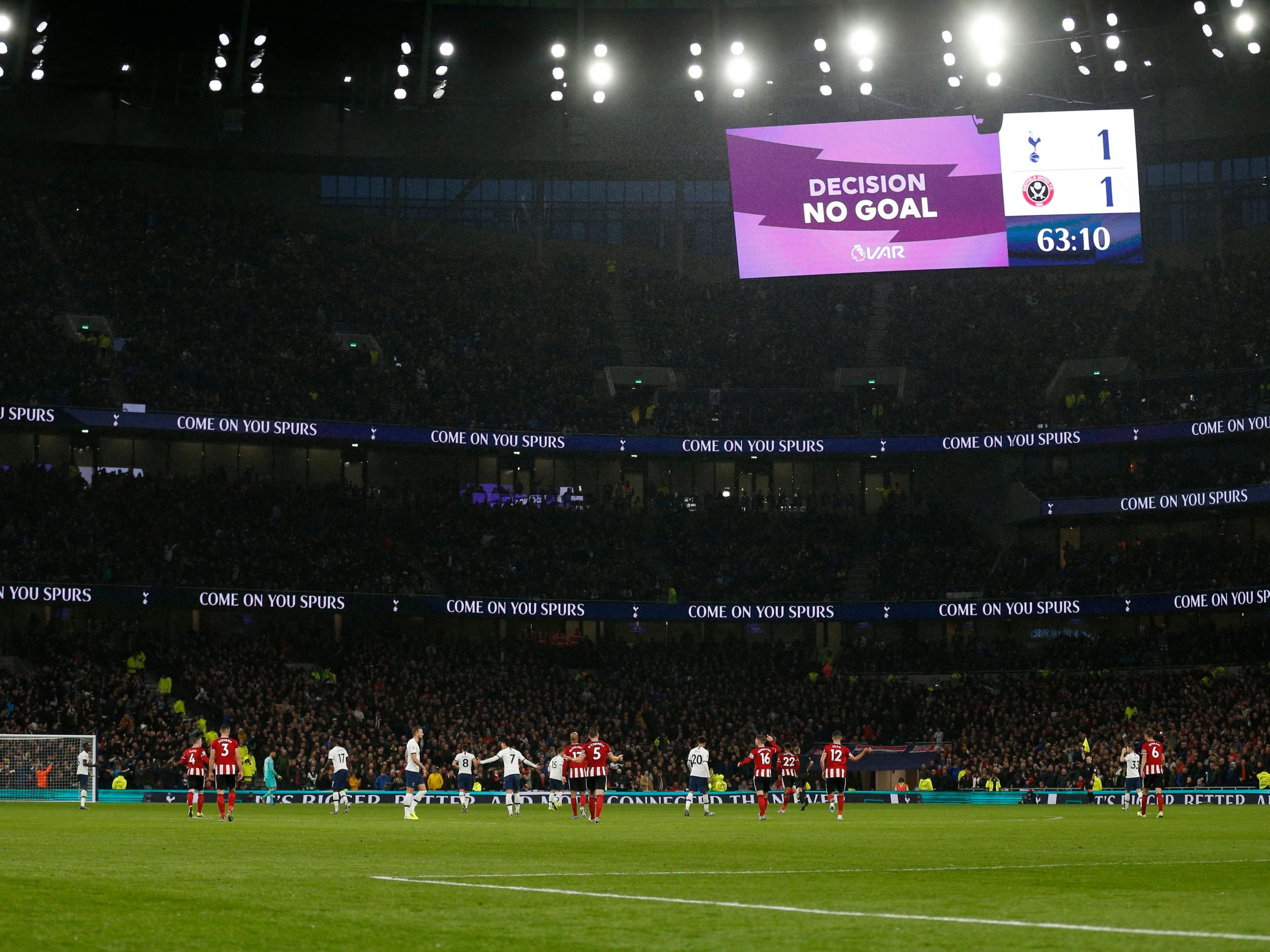 There are definitely serious issues surrounding VAR however. Last weekend, Sheffield United played Tottenham Hotspur at the new Tottenham Hotspur Stadium.
Republic of Ireland and Sheffield United striker David McGoldrick thought he had equalized just two minutes after Son Heung-min's 58th minute opener for Spurs, but VAR replays showed that John Lundstram's big toe had been marginally offside in the build-up to United's goal – a decision that was so close it took almost four minutes to make.
The officials in the VAR room used many different angles and several differently aligned rulers to eventually come to the decision. When an offside is that marginal, surely the attacking team deserves the benefit of the doubt? I say that as a former goalkeeper.
Sheffield United eventually did equalize in the 78th minute of that game and the final score was 1-1 on the day. Goals change games however and McGoldrick's disallowed strike might well have cost The Blades two points which could be crucial come the end of the season.
Has VAR gone too far? When applied to the English Premier League – and taking up to four minutes to make a decision – with players, coaches and fans in the ground not knowing exactly what's happening in the interim of an incident that has been referred to VAR? In that case, I believe very much that VAR has gone too far.
It's been announced over the last few days that Premier League fans will get more details about VAR checks starting from next month. The decision was agreed by the Premier League and the Professional Game Match Officials Limited (PGMOL) at a stakeholder meeting this week.
For me, these changes don't go far enough. The Premier League waited extra time to bring VAR into it. They looked at what happened in the World Cup, other tournaments and rugby. They're still not up to speed with what other countries and other leagues are doing however.
It is essential for the fans in the stadium to be aware of what's going on. The fans in the stadium are the most important stakeholders in football. At the moment, they have no idea what is going on when a VAR referral is made (which can often take up to four minutes).
Those watching on television are also of course significant stakeholders in football. In terms of an offside that is referred to VAR, for example, the red and blue lines that are seen on our television screens are just an indication. They are not exactly the same images as the VAR decision makers are seeing due to pixilation.
Should VAR be used in football at all however? For me, the most emotive and iconic football moments have tended to occur in international football, particularly at the World Cup. At the 1982 World Cup, had VAR been in use, West German goalkeeper Harold Schumacher would likely have been sent off for his horrific full frontal charge on French substitute Patrick Battiston in the 60th minute of that year's semi-final (pictured above) which knocked the Frenchman unconscious and broke his ribs.
In the sweltering Seville heat, with the West Germans down to ten men and with the skills of French captain Michel Platini, the French would likely have gone on to win. Instead the French lost the World Cup's first ever penalty shoot-out with Schumacher crucially saving two spot-kicks which saw the West Germans progress to the final.
Had VAR been in use at that 1982 World Cup however, we would have been denied one of football's iconic moments and greatest celebrations. That was of course Marco Tardelli's eyes bulging and maniacally racing exultation (pictured below) after he had scored to put the Italians 2-0 ahead late on in that 1982 World Cup final against the West Germans and on their way to lift the trophy. Tardelli's team-mate Gaetano Scirea was of course offside in the build-up to that goal, an incident which VAR would almost certainly have spotted.
There are of course a myriad of other historical footballing "injustices" that VAR would have seen and ruled on.
Do refereeing mistakes "even themselves out" over the course of a game? Over the course of a season? Over the course of a career? Probably not.
For me however, VAR removes a lot of the drama, emotion and excitement from a footballing occasion. If a goal is scored, or other similarly dramatic incident these days, players and fans often have to wait a few minutes before the technology is consulted until they can celebrate. In my opinion, that removes a lot of the spontaneous joy of a major footballing moment.
Had Thierry Henry's handball which led to that decisive goal been ruled out back in 2009 and France had gone on to win the (likely) resulting penalty shootout, would we still be talking about that night ten years on, a moment and a night which evokes emotion to this day? No, we wouldn't still be talking about it. Had Ireland won the likely resulting penalty shootout and had an average World Cup, exiting at the group stage or the early knockout rounds as would surely have transpired, that night back on November 18th, 2009 would be a small footnote in the annals of international football.
Instead it's one of the most famous, talked about and, for Irish football fans, emotional nights in football history. At its purest, isn't that what football is all about?